Providing tradies, truckies, blue collar workers and those who care about them with free counselling & mental health support.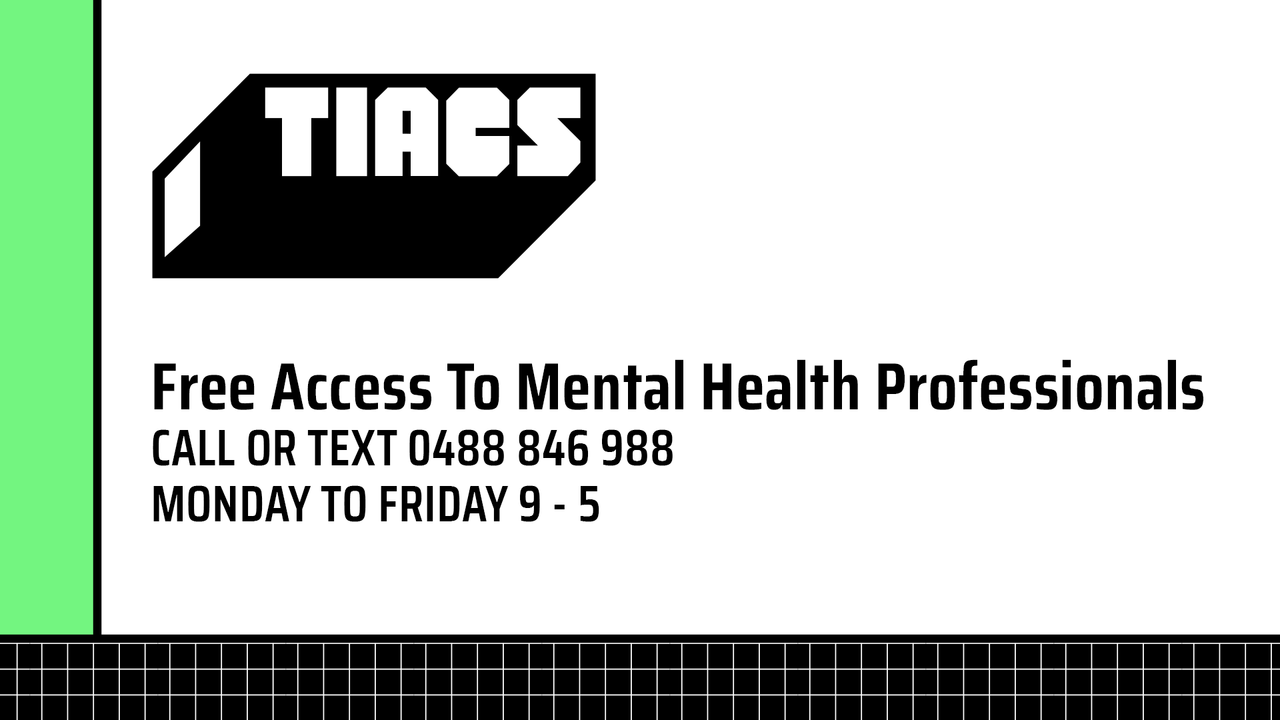 What is TIACS?
TIACS is a free and confidential chat, text and callback service, providing early-intervention mental health support for Australia's truckies, tradies, blue collar workers and those who care about them, with no GP referral required.
How do I contact TIACS?
We operate Mon-Fri 8am-10pm AEST, and you can call or text anytime during those times, for any reason. Whether you just need to chat, or are looking for some more serious support, we're here for you.
Need urgent support? If you or someone else is in immediate danger or at risk of harm, contact 000.
Outside of hours? Leave a message and we'll call you back. Otherwise, contact Lifeline at 13 11 14, open 24/7.
What will happen when I call TIACS?
At the beginning of all TIACS calls you'll hear a short recorded message, that explains our confidentiality policy. The first session will mainly be us getting to know you, and talking about how you've been doing, some details about your situation, and how we can best support you.
Sometimes our phone lines can be very busy, and we might miss your call. If that happens, don't worry, simply leave a message and as soon as someone is available we will call you right back.
Who can contact TIACS?
While our services are directed towards Australia's blue collar workers and those who care about them, anybody in need of support is welcome to call us.
If our service isn't the right one for you, don't worry, our counsellors will help you find the right service to contact.
What can I talk about?
You can talk about anything. Some of the most common reasons we see for contacting TIACS is relationships troubles, familial issues, grief and loss, substance use, depression and anxiety, and loneliness.
Not sure what to talk about? That's okay. We will ask you questions and guide you through the conversation.
Will you tell anyone what I've said?
TIACS operates under strict confidentiality, and your name or other personal details will never be shared outside of the organisation, unless you or a loved one is in danger. If necessary, our counsellors may contact the authorities to assist.
If you have any questions about our confidentiality policy, feel free to speak with one of our friendly counsellors about it.
How do I book an appointment?
The best part about TIACS is that you don't need an appointment to get free mental health support. Call or text anytime Mon-Fri 8am-10pm AEST to have a chat.
If you are looking for ongoing support, we can help with that too. TIACS doesn't offer online bookings, since we prefer to get to know you first in order to decide which counsellor can best support you.
So give us a call, and tell us a bit about yourself, and together we can decide how best to support you and your mental health.